Before there was Queen Charlotte: A Bridgerton Story, there was of course, Bridgerton—a show which itself managed to captivate the hearts of millions around the globe. Both shows have provided insight into the lives of our characters, with Queen Charlotte being set within two time periods.
If you were watching Queen Charlotte closely, however, you would've noticed several things that explain events that had previously happened in Bridgerton. In this article, we'll dive into five of these and how Queen Charlotte has given us insight into Bridgerton.
Daphne's Choice
One of the most captivating relationship throughout Bridgerton is the relationship between Daphne Bridgerton and Duke Simon Basset. Originally, their relationship is little more than a ruse. Daphne is desperate to escape the numerous suitors her brother has lined up for her, and Simon is sick of being nagged to find a wife by Lady Agatha Danbury.
Things quickly go awry, however, when they are witnessed in a moment of passion kissing in the garden. Daphne worries that her reputation would be tainted if word got out about the kiss and as a result, Simon agrees to marry her. The two apply for permission to expedite their wedding, but this is declined—it becomes clear that the Queen is not happy about Daphne rejecting her nephew and it is implied she has blocked their permission.
As a result of this, Simon and Daphne plead with the Queen for their marriage to be given expedited permission. Simon remarks that he did not love Daphne originally and the two reveal that their relationship was a ruse but since, the two have fallen more in love any day. In an interesting turn of events, the Queen gives Daphne a choice: she can marry Simon, or she can walk away without tainting her reputation (she marries him, obviously).
This was pretty much unheard of at the time, the Queen giving Daphne a choice whether she wanted to marry Simon or not, but Queen Charlotte offered some insight into why she did this. When we first see the interaction between Charlotte and George in Queen Charlotte, she is trying to climb over a wall to avoid marrying the King. She's had no interaction with him and, based on what she has heard about him, she believes him to be a "beast".
George, however, simply stands by why Charlotte unknowingly insults him, but later gives her a choice. Whilst her brother tells George she will marry him, George remarks that she is still not sure, and asks her if she wishes to marry him or not—ultimately, giving her a free pass to leave England if she decides not to. Charlotte obviously marries the King, but this is pivitol for her, giving her a choice where her brother did not.
This is likely the reason that Charlotte gives Daphne a choice in the marriage with Daphne, just as she was given a choice by George, she wishes Daphne to choose her own fate, just as she was (arguably) given the choice too.
Why does Lady Danbury host the first ball?
It is clear to any Bridgerton lover that Lady Danbury is an important and much loved character, and one of her most important duties to the ton is hosting the first ball of every new season. Whilst this might seem like a random occurence, it isn't, and Queen Charlotte explained exactly why this is.
Following the 'Great Experiment' as it's called in the show (which in reality, isn't a thing), Lady Danbury and the other black residents of the ton still found it difficult integrating into society. Lady Danbury, for example, was a major figure in fighting for equal rights and ensuring that their titles were passed down to their children.
With this, Lady Danbury asked if she could host a 'great ball', which would provide entertainment for the ton and also solidify their newfound status among the rest of society. This was eventually agreed, and since then, Lady Danbury hosts the first ball of every season. This tradition signifies Lady Danbury's positon within society and shows just how far they have come over the years as equals.
Queen Charlotte's Emerald
In season two of Bridgerton, Eloise makes a comment about a diamond necklace to the Queen, joking that whilst the necklace is pretty, she herself preferes 'emeralds'. The Queen appreciates this and also jokes "my favourite necklace is one of emeralds", although she never fully explains why this is or what the necklace looks like or who it was from.
At the end of Queen Charlotte, however, if you were watching closely, you'll notice that in the scene between Charlotte and George—in which they hide under the bed—the Queen is wearing an emerald necklace as she hides from the heavens with George. It is not clear whether the necklace was given to her by George or not, but the necklace signifies an intimate moment between the two wherein it becomes clear that their love transcends whatever illness George is suffering from.
Why the Queen saves Kate and Anthony from ruin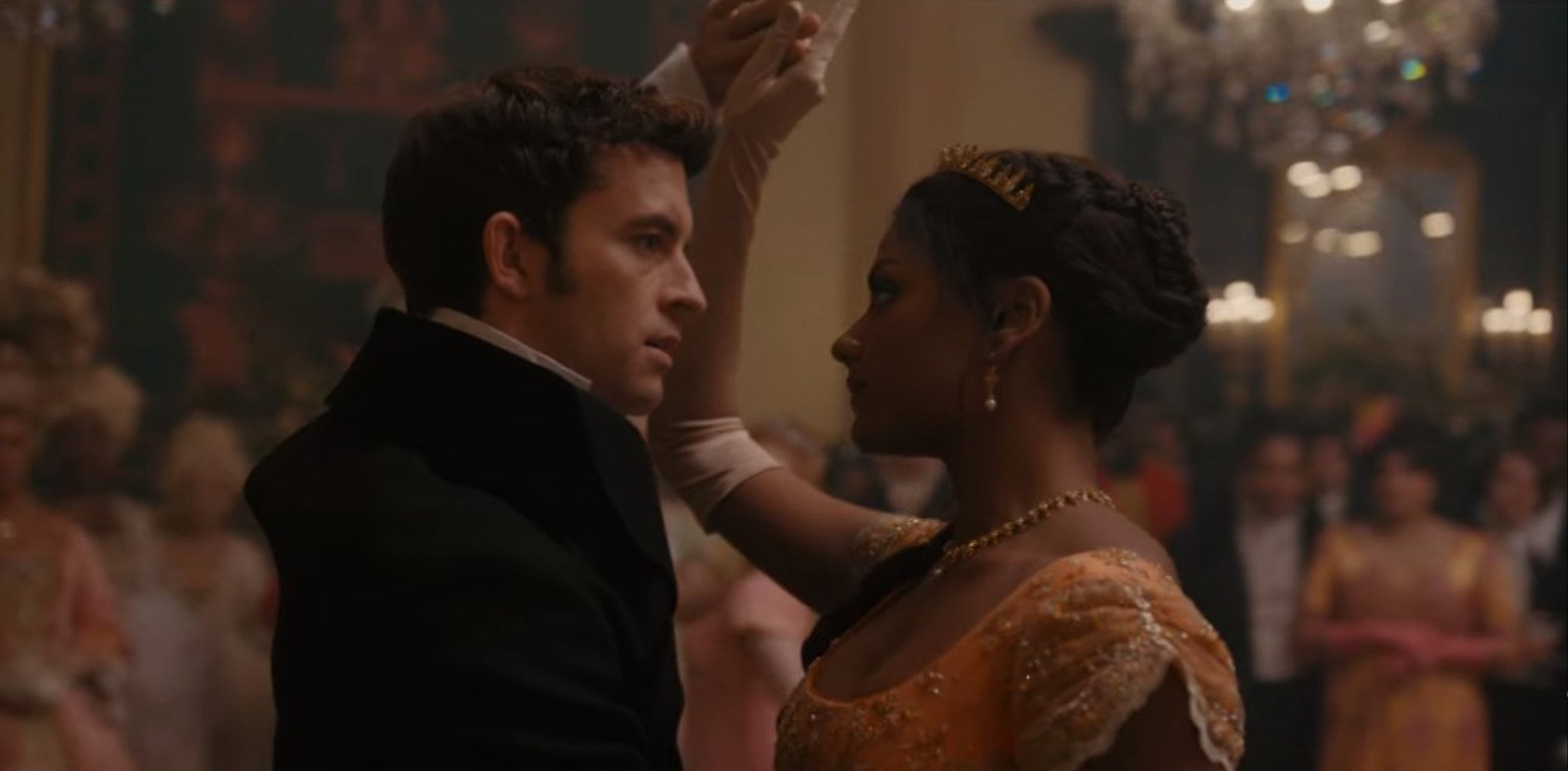 There's no doubt that Kate and Anthony's relationship was a tumultuous one, arguably a controversial one at best. Kate and Anthony had been playing a dangerous game for quite some time whilst Kate attempted to marry Edwina off to Anthony for financial game.
This eventually comes to a head when the relationship is made public knowledge and Anthony and Kate decide that they will no longer hide their feelings for one another. During a dance in which the Queen is in attendance, Kate and Anthony make the difficult decision to dance together despite the controversy surrounding their relationship.
What makes the scene even more heartfelt is that the Queen is in total support of the relationship, and even remarks that the two are a perfect match. On the surface, it is not clear why the Queen is so in favour of the relationship, but it becomes clear through watching Queen Charlotte that the Queen sees the relationship between Kate and Anthony as an almost identical mirror of the relationship between George and herself—just as their relationship is echoed in the couple, as is the dialogue between the two.
During the dance between Kate and Anthony, the latter tells Kate to "just keep looking at me. No one else matters". This is almost an idential sentiment to Charlotte telling George to "keep your eyes on me. Do not look at them, there is no one else but us". The Queen clearly saw her own relationship in that of Kate and Anthony.
There you have it, four times that Queen Charlotte has explained or given context to things that happened in Bridgerton. Some of you eagle-eyed viewers may have already spotted this but if you didn't, now you know!
Don't forget you can watch Queen Charlotte on Netflix now.